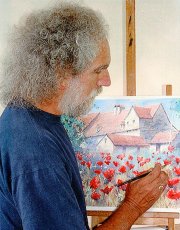 Welcome …and thanks for visiting.
The idea of this website is to provide some information about myself, my range of watercolour paintings; subject matter; pricing and sizes; exhibitions and commissions, and the other things that I make, so that you can contact me with confidence.
Born in 1946 and brought up in Christchurch, I am completely self taught & moved to mid-Norfolk in 2006 with my wife Hilary, where I am now finding great inspiration for my painting in the coast and countryside of East Anglia. I paint mainly in watercolour but also in acrylic, and design and produce a variety of woodcraft items.
I have had work displayed in the following exhibitions and galleries:
Royal Academy Summer Exhibition
Royal Institute of Painters in Watercolour
Royal Society of British Artists
Medici Gallery
Sunday Times Singer Friedlander Exhibition
Please contact me if you'd like to know more.